Location
Diamond Willow Trophy Hunts
Vilna, Alberta, Canada


(780) 210-0800

Type of Deer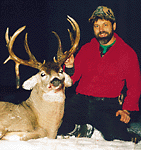 Located in East Central Alberta about 100 miles Northeast of Edmonton, Diamond Willow Trophy Hunts is situated in one of the best trophy white-tailed deer areas in the world. Mature bucks in our region have little trouble averaging 150 Boone and Crockett points with many scoring much higher. Non-typical points and heavy antler mass are common characteristics on many of these deer. Body size of bucks taken averages 280 lbs. but occasionally tops 350 lbs.
The Outfitter
| | |
| --- | --- |
| At Diamond Willow we live and farm year round in the area that we hunt and know it well. Big bucks are patterned on an ongoing basis and many shed antlers are found each spring. We have consistently achieved one of the best success rates in Alberta on trophy class deer and attribute this to knowledge, hard work and an excellent area. If you are a true white-tail fanatic, this is the place for you! | |
The Guides
| | |
| --- | --- |
| At Diamond Willow we hunt during every available minute of legal time. Our experienced guides, most of which are farmers in the area, work hard to ensure your success. | |

| | |
| --- | --- |
| Our primary hunting method is stand hunting. Comfortable ladder stands and tripods equipped with high back swivel chairs and adjustable shooting rests are utilitized. Fully enclosed towers and ground blinds are also used. Hunting areas are pre-scouted and stands are set up prior to your arrival. | Click image to enlarge |

Clothing Requirements

Warm clothing is essential as temperatures can dip to 30°F below zero, however the average temperature is usually around 10°F. Be sure to bring warm headgear, a face mask, warm gloves and mitts, and well insulated boots as snow is usually present. Camouflage clothing is allowed.

At Your Service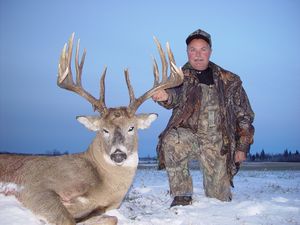 It is our goal to provide an experience you will never forget. Comfortable accommodations including bedding materials, showers and delicious home cooked meals are all part of your hunt. Field dressing, skinning, caping and packaging of your trophy are included. Hunters are picked up at the Nisku Inn (located near the Edmonton International Airport) and returned at the completion of their hunt. Flights to Edmonton and overnight stays at the Nisku Inn are arranged at your cost.




Hunting Dates Offered
Hunts are conducted during the last three full weeks of November and last six days each (Monday to Saturday). Two week hunts can be arranged.
Hunting Dates for 2020

1st Hunt

November 16 - 21 (6 days, Monday Start)

2nd Hunt

November 22 - 27 (6 days, Sunday Start)

Hunting Dates for 2021

1st Hunt

November 15 - 20 (6 days, Monday Start)

2nd Hunt

November 22 - 27 (6 days, Monday Start)


Reservation and Payment

A deposit of 50% is required at the time of booking to confirm the hunter's intention. Final payment is due upon arrival in guaranteed funds. In event of cancellation, deposits are non-refundable unless transferred to a mutually accepted substitute party. Diamond Willow Trophy Hunts is licensed, bonded and insured. All rules and regulations are abided by to provide a safe and memorable hunt. References are available upon request. For more information or to book your Alberta Whitetail hunt please call or write to:

Diamond Willow Trophy Hunts
c/o Bill Machura
Box 501, Andrew, Alberta
Canada T0B 0C0

Contact us by email: bill.mach10@gmail.com